News - Press Area
Details

Hits: 92
Interactive digital Kiosks for the tourism recovery:
Excellent for hotels, restaurants, parks, bus or railway stations, gyms, libraries, and many other strategic areas of a City or town.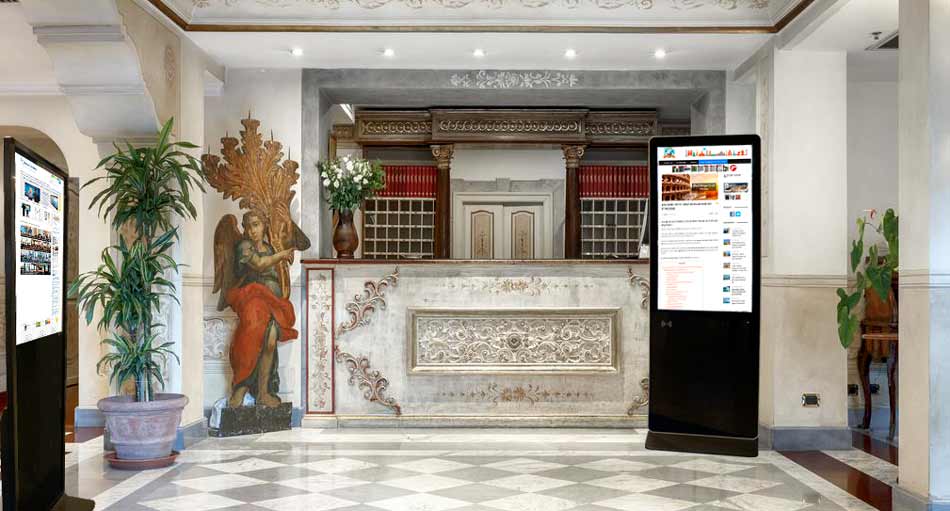 Rebuilding the tourism sector passes through the use of interactive digital kiosks easily accessible by citizens and tourists for the dissemination of information that is constantly changing such as the opening hours of parks, shops, museums, cinemas and so on.
In urban centers, many forward-looking municipal administrations are setting up outdoor touch screen information kiosks with digital signage systems that allow you to update information, videos, images directly from a remote PC, accessible to all citizens and tourists in multilingual mode.
The Outdoor Interactive Kiosks with touchscreen displays are suitable for parks, landscaped paths, public swimming pools, public open spaces.
The elegant SmartMedia Indoor Kiosks, on the other hand, can be combined with any situation of a tourist accommodation facility that needs to quickly dispose of repetitive information to customers: Hotels, Restaurants, Bed & Breakfasts, campsites and any accommodation facility as well as in sites of great historical and artistic value. Museums, monuments and archaeological excavations, in areas of naturalistic and environmental interest, tourist ports.
🎯Advantages of using interactive digital kiosks
Info point and enhancement of the territory: to raise awareness of useful information for tourism such as knowledge of economic activities and their location.

Customer retention and database: dialogue with users and tourists, receiving comments, suggestions and opinions and acquiring email addresses for subsequent contacts, expanding the contact database management.

Exploration and storytelling: Enhance unexplored areas of the city, highlighting cycle paths, walking areas along the banks of rivers or lakes, marinas. Each of these elements will have a story to tell and accommodation and refreshment activities to offer with unique characteristics

Guaranteed social distancing: Interactive and self-service information points with ad personam access, which allow you to avoid direct contact with operators and maintain social distancing. Easily sanitized display.
📐Design and customization
All Smartmedia interactive Kiosks can be customized in colors, and hardware and software devices; this allows you to find the optimal situation for each type of need.
🏫To be placed in strategic points around the city, in hotels, restaurants, parks, stations, spas, libraries
Improving communication and providing information on food and wine routes, shopping circuits, nature and historical routes, as well as bus and train timetables , opening hours of museums, shops, public offices and banks.
Do you want to know more about all SmartMedia products?
Fill in the following form and you will be contacted shortly to arrange an appointment with our commercial experts.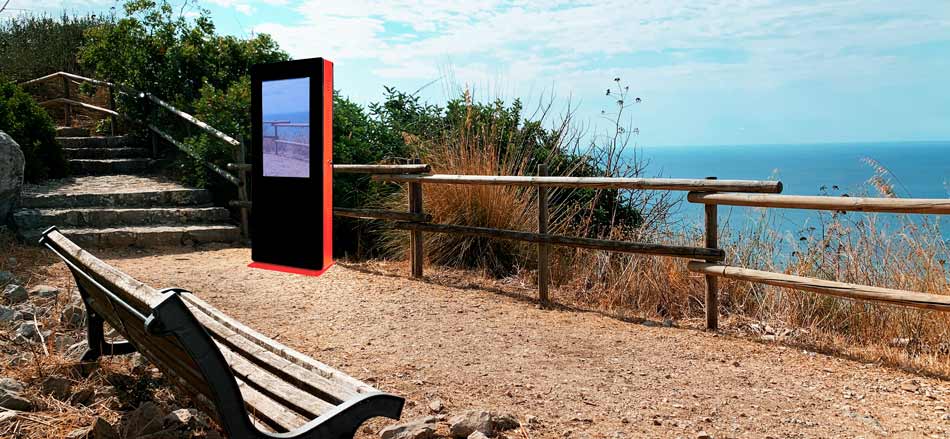 Our reference markets
Public administration | Retail Shops | Shopping centers | Hotel | Museums | Airports | Banks | Pharmacies | Corporate | Business centers | Congress Centers | auditorium | Hospitals | Medical Centers | Catering | Schools, universities and libraries | Travel Agencies | Gyms | Fairs and events | Tourism